Ran
This time around I have a slightly classic recommendation for you.  Movie experts have long praised Ran as not only one of the better foreign films, but one of the best films ever.  IMDB's top 250 (hardly a home for sophisticated criticism, but still an easy place to start when looking to build the "canon" of film) places the film at #143 currently, which is nothing to sneeze at in terms of rankings.  And as someone who's already seen Seven Samurai and Rashomon, it seemed time to take the next step in my education on the works of Akira Kurosawa.  For those who don't know, Kurosawa is essentially the most heralded auteur in Japanese Cinema history.  He's known for long, epic, period pieces primarily set in feudal Japan.  He's not the most accessible filmmaker by any means, but a full viewing of his better films is always rewarding to those who have the patience.  Ran is no less trying when it comes to its commitment requirements, but I found it incredibly immersing and an amazing film overall.
Ran is inspired by Shakespeare's King Lear, but it transplants the story to Kurosawa's favorite setting, feudal Japan, and rearranges the story quite a bit in order to fit and expand upon the new approach.  It's not a literal adaptation, so you won't see any Shakespearean verse in your subtitles, nor is there any commitment even to the characters.  While I did study King Lear, I'm not prepared to do a point by point comparison of the two works, but I can tell you that those who have seen the play will notice immediately that Ran changes Lear's three daughters to three sons, likely to fit in better with the laws of the time.  This has intriguing side effects though, as the wives in the film become interesting pawns in the chess board that is the plot and one even becomes quite the player of her own, displaying a she-devil like prowess for power.  Ran contains some incredibly realized battle scenes that I doubt would ever be present in quite this form on stage as King Lear.  They're incredible to look at, and bring the excitement up a notch or two.
The first thing I noticed upon starting the film was the presence of color.  This might not sound unusual, especially for a film made in 1985, but to someone who's only seen Kurosawa's work in black and white, it was quite a shock.  Boy is it brilliant color, too.  Kurosawa went the complete opposite end of the spectrum, with beautiful greens in the grassy hills, and reds, blues, and yellows as representations of each of the three sons.  Kurosawa sticks with his shots for a while, particularly in the first third of the movie when the pieces are being set in place for the chaos that occurs later, so those with visual ADD may find the look of the film a little trudging.  But those keeping a close eye on the shots will find many of them to be perfectly composed.
Let's not kid ourselves here, the plot does spread thin over two hours and forty minutes.  You will feel the length.  But this is one of the best dramatic stories ever written, and I think it manages to pull it off despite its length.  There's a poetic beauty to the way it's told in this setting too, and the more it builds to the climactic moments the more you appreciate seeing the tragedies occur.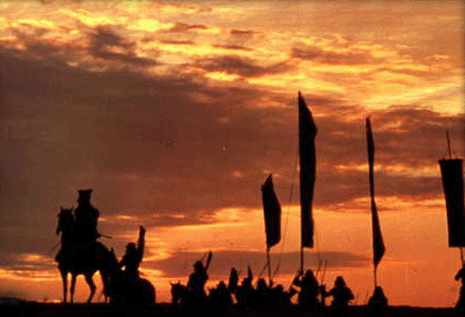 The acting here is all pretty good, if stylized in the traditional Kurosawa fashion.  The strong men tend to yell quite forcefully, the weaker men tend to be particularly effeminate, and the women particularly stoic.  It gets certainly gets the emotion across, and it feels right in the way that Humphrey Bogart's dialogue had a ring to it even if it wasn't always realistic.
With or without a knowledge of Shakespeare, this is a story for the ages.  While it speaks of big ideas this is truly a story about family, and in that way, it struck a big cord for me.  I was emotionally moved, and I think that anyone willing to commit this much time to it will feel similarly.  Seven Samurai is the more obvious choice if you're just getting started with Kurosawa's work, and Rashoman is great for writing geeks, but Ran may be the most mature and relatable of any of the director's works.  Highly recommended on all accounts.